Indoor & Vertical Lettuce Farming
Opportunities for Indoor Lettuce cultivation
Lettuce is the base of every salad. Imagine being able to produce this at consistent quality, regardless of your location.
The Crop
Lettuce crops have been grown for decades. However, a lot has changed in the way lettuce is grown. The transition from open field to Greenhouse production was a major change. It required a differentiated approach, new genetics and new operational procedures.
In recent years, the indoor farming industry developed growing recipes to produce lettuce in an efficient and commercial viable way. Due to the high level of control of LED lighting, air flow and nutrient supplies, problems such as tip-burn are gone. Yields are outperforming other production systems due to the efficiency and optimal conditions.
Another segment within the lettuce category is baby leafs. Baby leafs typically are differentiated species such as arugula, red chard etcetera. These leafs are grown as individual leafs instead of a crop. Expertise of the crop will generate the operating procedures and the system requirements.
Today's market focuses on convenience products, where products/plants are mixed and prepared as a ready-to-eat product. This is also reflected in a higher commercial value of the product, allowing a higher investment in the production system.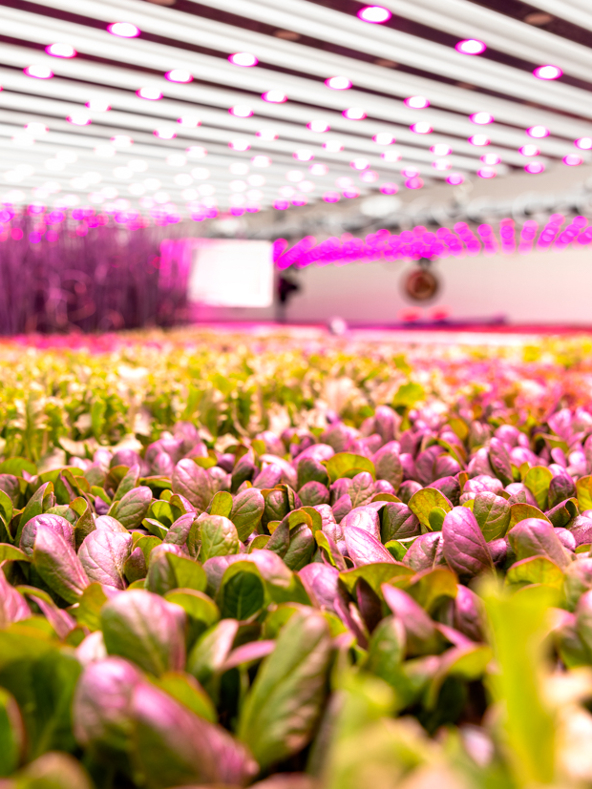 Estimated ROI of an indoor lettuce project?
Estimated ROI of an indoor lettuce project?
Estimated ROI of an indoor lettuce project? 
Other indoor crops worth investigating
FAQ
Indoor Lettuce Cultivation is the practice of growing lettuce in a controlled indoor environment. Not in a greenhouse, but in a facility with artificial grow-lights, controlled airflow and irrigation systems.
Due to the high level of control plants will develop in an optimal way leading to higher quality crops and higher yields.
With Indoor Cultivation all parameters of the growth can be controlled which further optimizes the growth compared to greenhouse cultivation. The sole source of light comes from LED light fixtures which gives the opportunity to supply as dedicated spectrum to the plants. The risk of pests is minimal and therefore no pesticides are being used. In most cases Indoor Farming is applied in a vertical structure in order to optimize the growth per cubic meter. Therefore the facilities have a smaller footprint and can be located closer to cities.
The ideal climate for indoor lettuce cultivation is a moderate temperature range of 21-24°C with a relative humidity level of 60-75%.
LED lighting is generally recommended for indoor lettuce cultivation due to its energy efficiency and ability to provide a full spectrum of light. Based on the type of lettuce a specific light spectrum will be chosen for optimal performance. 
Automated climate control systems, energy-efficient LED lighting, and advanced hydroponic or aeroponic systems are commonly used in modern indoor lettuce cultivation facilities.
Certain crops allow for multiple harvests of one plant such as arugula. This process the need and costs for consumables like growing media and seeds.